No regular club meeting for April 2017. Members are requested to attend and help out with our Astronomy Day Event
The CAAC Annual Astronomy Day Event
Coming on April 29, 2017
Held at the Gaston Caperton Center
of Fairmont State University, from 10:00 thru 4:00. Featuring noted area speakers, learn about the various types of telescopes from our display of various telescopes and kids activities and see the stars in a Star Lab.
Green Bank Star Quest XIV
Our 14th annual OPTICAL and RADIO astronomy "Star Party" July 19 - 22, 2017, held at the Radio Astronomy Observatory at Green Bank, WV. We have keynote speakers each night with presentations on the latest in optical & radio astronomy. A Featured "Keynote Presentation" Saturday night Clinics and additional presentations held daily (indoors) on multiple subjects including Astrophotography. Solar and nighttime observing at your campsite. Campground has graveled roads, sanitary stations and a HOT shower facility (close by). Featuring: a Large Raffle Drawing (the 2016 event had 84 prizes), Children's Activities, Cafeteria and Snack Bar, and Vendors on site. The 4-day registration fee is just $100. Limited bunkhouse accommodations for additional fee. Website http://www.greenbankstarquest.org. Contact phone 304-669-3555.
Here is the AD from the the 2016 Event. We would like to thank all who attended and supported this event. We are now planning the 2017 event. Details will be announced on an ongoing basis.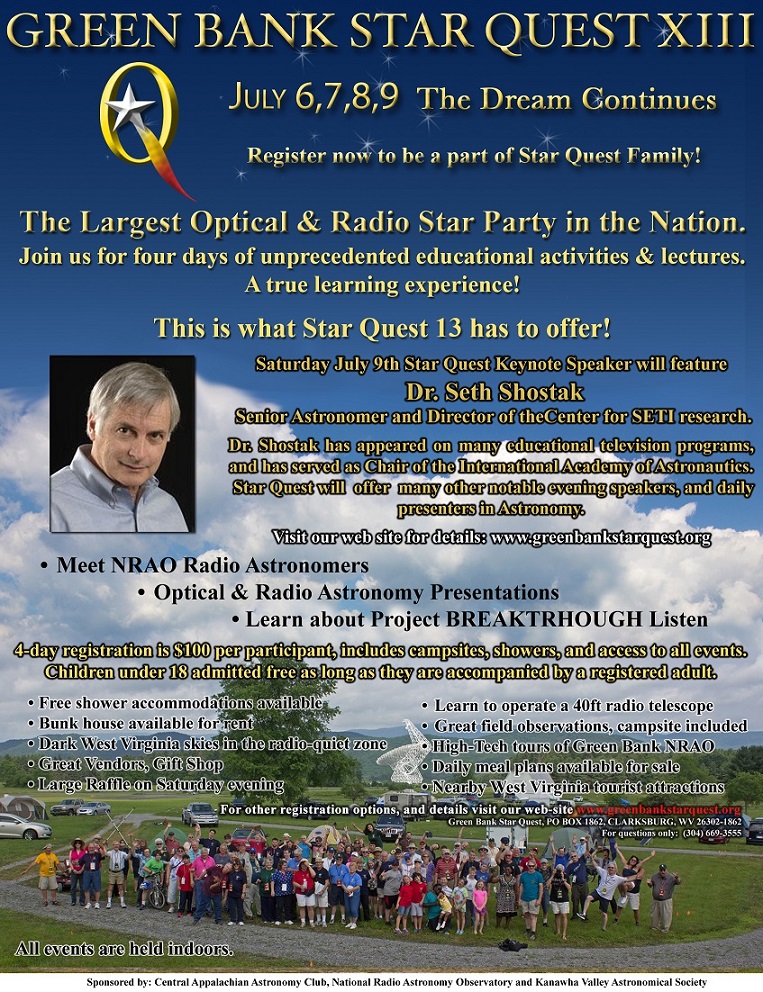 This is our ad that appeared in the Reflector magazine
-------------------------------------------------------------------
http://www.greenbankstarquest.org